Today, websites are essential in marketing products and services online. Your website is a powerful marketing tool that helps you reach your customers easily. When customers visit your site, the first impression is always important. Most businesses today happen online and having a website is an advantage since you get to interact with customers globally.
Over time, technological advances make your website obsolete, and you need to implement new features. Many business owners opt to redesign their websites afresh to get a modern look with advanced features. Others choose to improve the site design with an exceptional user experience. Eleken agency is an example of a professional web development service with experts who can help you redesign your site.
In this article, we offer insightful tips to assist you in developing an excellent website that will be appealing to users.
Identify the Design Flaws
Before you decide to improve your site, the first step is to identify the current design's flaws. When you find the challenges, you need a plan on how you will implement the changes. How will you tackle each challenge and improve on it? Having a strategic plan will help you redesign your site accurately.
The plan should entail the user journey from the first click to the conversion. Find out the improvements you will make to increase leads and conversion rates. Consider the images, the typography, or the color combinations in the previous website. Will changing these factors affect usability positively? The user journey map will help you streamline specific design aspects and rectify the flaws.
Add White Space
Most people with no design background often think white space is a mistake on a website. But having balanced white space is a good design element. It helps increase readability to make your site content clear to users. Expert designers usually leave white space around text blocks to increase the attention span of users. Therefore, you need to be careful not to put your text on a colored background. Too many images and background colors will interfere with legibility.
Remember, you need to avoid cluttering your website with irrelevant information. Having adequate white space will help you get a balanced website that appeals to users.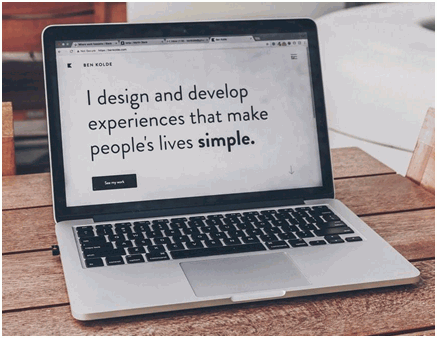 Speed Optimization
Browsing a slow site can be pretty annoying and time-wasting. Today, many users want to access sites quickly and easily get the information they need. Mobile technology has made it possible for users to access any content on different websites. Quick results keep users coming back to a site for more content. Thus, slow websites are a turn-off for many customers since people have no time to wait for the pages to open.
One way of boosting your site's usability is to optimize the speed of its web pages. You need to decrease the size of the images by compression to smaller, manageable sizes. Large images affect site performance resulting in slow speeds.
Creative Calls to Action (CTA)
CTAs are visual pointers that direct users to particular sections with relevant content. It is frustrating for users to browse a website with unclear CTAs. They might find it challenging to locate the content they need on time. Your designer should mark the calls to action buttons with a clear action name for easy navigation.
Thus, you need to factor in creative buttons with appropriate color themes for the CTAs. Colors are a great approach if you want to evoke certain emotions in users. So, pick the colors carefully and don't overdo them. Make sure they are within the site's color theme and variation for cohesion.
Another essential feature in CTAs is the words used on the action buttons. Pick creative words that will entice the user to click and follow up on the action, whether getting started on the registration process or actions that will convert them into customers.
Differentiate Hyperlinks
Hyperlinks connect web pages with important information that the user might need. Hence, you need to ensure the links you insert on your website have cues that users can quickly identify. The links can have different colors, or you can underline the text. Make the links different from the standard text to grab the users' attention. They will notice the links quickly and click them to get further information.
Differentiating hyperlinks will enhance user experience, and your site will get more traffic and conversions. Moreover, you can also make your link titles long instead of hyperlinking one word. This gives the users an easy time identifying the links.
Mobile-Friendly
Technological advances today are dynamic as more users have mobile needs. Many websites must be compatible to support mobile technology because users have smartphones. Moreover, mobile-friendly websites have more traffic because of easy access. It does not matter the device type; the website will still be responsive on any mobile platform. Therefore, a crucial way of improving your website is to make it responsive on mobile devices.
Avoid 404 errors
Running into 404 errors on a website is annoying to users. If a potential client visits your website and doesn't find a page, they will abandon the mission without getting more information about your products or services.
Thus, you need to check for the 404 errors before they affect traffic and conversions. Such errors prevent customers from coming back to your website in the future. Therefore, ensure you hire an expert developer to restore the damaged links and the missing pages.
Maintain Consistency
Another effective way to enhance your site's usability is through consistency. Consistency is essential in providing an exceptional user experience. You need to make sure the design style is similar to all the web pages. For instance, typography, color choice, space, design components, etc. Altering the design style on different pages might confuse the readers and evoke a feeling of unprofessionalism.
You can follow the above tips to revamp your business website and enhance usability. Ensure you make your website responsive and mobile-friendly while maintaining a consistent design style. An appealing website with functional features leads to more traffic and high conversion rates.